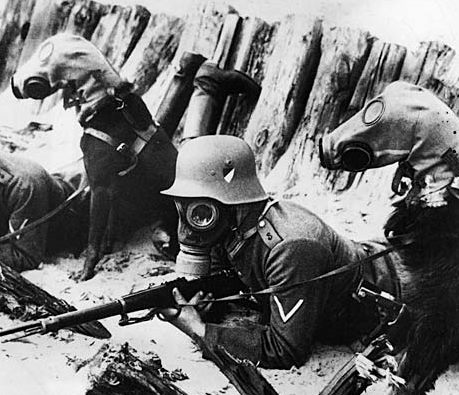 Though Animal Intelligence will generally feature fun and interesting stories about animals and their behavior, not all of them will be quite so positive. Recently for Time magazine, Ishaan Tharoor compiled a list of animals that had been pressed into service for human wars.
The Time article was spurred in part by reports that in Afghanistan, the Taliban may be training monkeys to use automatic weapons. Apparently these rumors are unsubstantiated, but that hasn't stopped a Taiwanese outfit from producing digital animation of what training monkeys for war might look like:
I'm skeptical that the report of monkeys with machine guns is accurate. For the sake of completeness, here's the complete list from Time:
Mostly, humans have used animals in supporting roles during war. They serve as pack animals and transportation, or as tools to find enemies or weapons. Sometimes — as in the case of cows — the animals are the weapons themselves. (In this case, the cows were dead and diseased.) But recruiting actual animals do to your fighting for you? Aside from the science-fictional possibilities (Planet of the Apes!), this seems ethically wrong on many levels.
But then, one could argue that war is ethically wrong on many levels, too, I suppose.