My cat Nemo has a favorite rag. It's like a security blanket. He keeps the thing outside, but he carries it around with him. He plays with it. He sleeps with it. He keeps it in safe spots.
Oliver, a neighbor cat, is a glove thief. If I leave my garden gloves outside, chances are I'll be missing one (or both) before long. I've seen him carrying them across the yard. Where does he take them? Why does he take them? Does he think he's playing a joke on us?
Here's a photo I stole from MSNBC: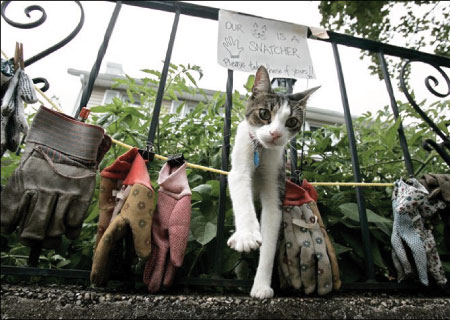 photo by Julie Jacobsern for AP
The original caption read:
Willy the cat poses with several garden gloves that he had taken from unknown yards in Pelahm, N.Y., on Thursday July 20. Willy, who is one year old, has brought home nine pairs of gloves and five singles over several weeks, dropping them on his owners' front or back porch.
Why do animals collect things?